Developing owner capability on the Chatham Islands
We've been helping Māori landowners on the Chatham Islands build their governance skills, with an eye to the future of their whenua administration.
The Chatham Islands sit 800 kilometres east of mainland New Zealand and are home to around 600 residents. The islands are also home to a large number of Māori land blocks – nine of which are administered by the Māori Trustee. This remoteness brings with it a number of challenges for an administrator located off island.
"It can be an expensive exercise to administer land there because it's so remote," says Te Tumu Paeroa Trust Specialist Jo Pleydell.
"If there's an issue on the island relating to the whenua, they'll ring Wellington so we can help fix it. But ideally they could work with each other on-island to find those solutions."
The challenges that this isolation can bring highlight the value of having Māori well versed in kaupapa Māori based governance.
Te Tumu Paeroa designed a programme – New Zealand Certificate in Māori Governance (Level 4) – that develops these skills. Delivered in partnership with Toi Ohomai Institute of Technology, the workshops build the knowledge and abilities of participants so that they can confidently take up a governance role for their whenua. And in 2018–19, we ran this programme on the Chatham Islands.
"It's a course we've developed specifically with Māori landowners in mind. We want to build capability on the island because, eventually, we want to see the whenua administered on the island" says Jo.
Where the heart is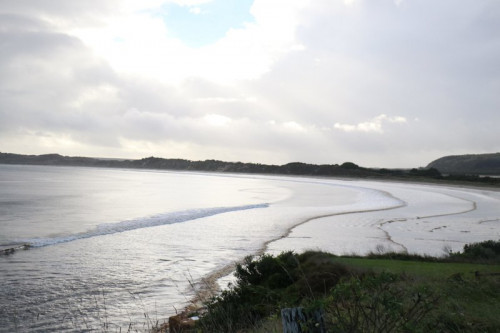 One of the course participants was Cathy Thomas. Cathy is an owner of Wharekauri 1A2, which sits on the northern coast of the island.
Since moving there at three months old, Cathy has spent most of her life on the Chatham Islands.
"That's where I grew up and that's where my heart is," says Cathy.
For Cathy, the Certificate in Māori Governance course is an opportunity to prepare for a future with owners taking over responsible trusteeship of the whenua.
"I think landowners need to be able to take control of their own land. That land isn't generating income – most of it is in reserve. And every time the responsible trustee comes over – how do owners pay their share if there's no income being generated?"
Lessons learnt from governance training
For Cathy, some of the key lessons learnt from the Governance course include returning to the practice of kotahitanga and whanaungatanga with other owners. She's also hopeful that the next generation will also take part in the course in the future.
"I would recommend that they have to – to give them a good understanding of how it works," says Cathy.
It all comes down to helping to protect the whenua for future generations. Cathy has also been encouraging her grandchildren to connect with the whenua in the same way she always has.
"With my own mokopuna, I take them out there. They've actually been part and parcel of planting the trees back into the whenua.
"And when we go there, I talk to them all about the whakapapa, how I grew up there – everything about my grandad. I almost paint a picture in words for them so they know. They've got to have respect for the land."