Investing in Māori development through whenua
Strategic investment into the development of whenua, and more support for Māori freehold landowners and their whānau was announced by the Government today.
Today in Gisborne the Hon. Andrew Little (Ministry of Justice), and Hon. Nanaia Mahuta (Minister for Māori Development) announced 56.1 million over four years will go towards implementing the Whenua Māori programme.
"Our focus is on stimulating social and economic development through the 1.4 million hectares of whenua Māori that remains in Māori freehold title," says Minister Mahuta.
"The Whenua Māori Programme recognises the challenges facing Māori freehold landowners and the value of pursuing opportunities which will lead to the sustainable and intergenerational development of the land and its people."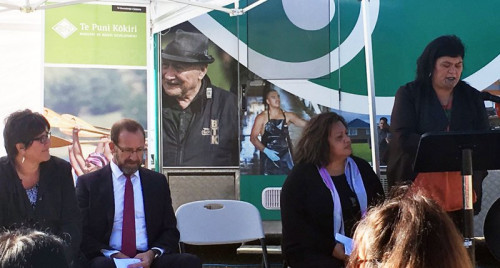 Co-led by Te Puni Kōkiri (Ministry of Māori Development) and the Ministry of Justice, investment in the programme will deliver:
Regional whenua advisory services: Dedicated staff and on-the-ground advisory services in Te Tai Tokerau, Waiariki and Te Tairāwhiti.
Whenua Knowledge Hub and website: A hub containing a range of digital tools with up-to-date land information, supporting whenua investment, planning and landowner aspirations.
New and Improved Māori Land Court services: A tikanga-focussed alternative to court proceedings available to settle disputes. A more simplified succession process along with changes allowing more applications to bypass a court hearing or judge involvement.
Modernisation of the Māori Land Court information systems: Replacement of the existing, outdated Information System that holds the official court records. The new Information System will support future legislative changes and offer more online functionality.
Amendments to Te Ture Whenua Māori Act 1993: Proposed targeted amendments are due to be introduced into Parliament later this year.
Minister Little said that Māori landowners had told him that they feel the effort of engaging with the Court can outweigh the benefits.
"I want people who come to the Māori Land Court to feel they have more choices and control. This investment gives us an opportunity to take advantage of modern technologies and services to provide landowners with a better experience."
More information about the Whenua Māori programme, including the press releases can be found here.
Photo credit - Te Puni Kōkiri