Kristy Roa, showing the world the future is farming
Twenty year old Kristy Roa is the 2019 winner of the Ahuwhenua Young Māori Farmer award for sheep and beef.
Kristy (Ngāti Maniapoto, Ngāti Apakura), works as a shepherd on Iwinui Station near Tolaga Bay on the East Coast. She is the eighth young farmer to receive the award since the competition started in 2012.
"Kristy has shown great commitment to her work, excellent leadership and will do a great job as a role model for other young people contemplating a career in the agribusiness sector" says Lead Judge Peter Little.
The other two finalists for the award were Tumoanakotore-i-Whakairioratia Harrison-Boyd, (Ngati Porou, Whanau a Tuwhakairiora me Te Whanau a Hinekehu), a shepherd at Whareopaia Station near Tolaga Bay on the East Coast; and Taane-nui-a-Rangi Rotoatara Hubbard (Ngati Kahungunu, Ngati Pahauwera, Tainui, Ngati Pakapaka, Ngai Tahu, Ngai Tuhoe), a shepherd on Caberfeidh Station in the Hakataramea Valley near Kurow, northwest of Oamaru.
All three finalists have taken part in training to help them establish their careers, and move towards senior positions within the industry.
The three were selected from a number of entrants from around the country.
Combining business with the love of the outdoors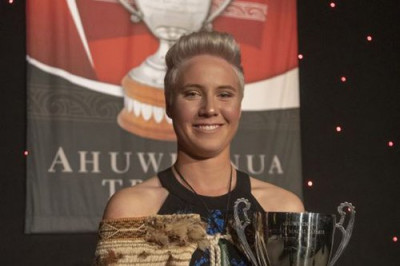 Born in the city with no direct connections to farming, Kristy had planned to head overseas after finishing school. However, by chance, she heard about the Waipaoa Cadet Training Trust on the East Coast. Driving through farmland on the way to the Waipaoa open day, Kristy was inspired to make a change and pursue a career in agriculture. Gaining work experience on several Waikato farms first, Kristy was later accepted onto the two year cadet course.
While she loves the outdoors life, it's the business aspect of farming that's a major attraction to Kristy,.
"Pretty cool" is how Kristy describes the business side of the industry.
Iwinui Station (Hauiti Corporation) near Tolaga Bay where Kristy works as a shepherd – is a 2,100-hectare property with 5,300 ewes, 3,700 ewe lambs, 450 cows and 1,000 trading bulls.
"It's pretty awesome here getting involved in the Māori community".
In the future, Kristy hopes to be a manager in a large scale sheep and beef farm in the Gisborne region.
"I love it here, I really don't want to leave".
But her plans don't stop there.
"I also really want to own my own farm one day," says Kristy.
"Managing is a goal, owning is a dream".
Recognising up and coming talent
The Ahuwhenua Young Māori Farmer Award was first held in 2012 and recognises talented young Māori farmers. Alternating each year between Sheep and Beef and Dairy the award will next year introduce Horticulture. Designed to encourage young Māori to make farming a career choice, the award showcases the talent pool that exists within Māori.
Te Tumu Paeroa is proud to sponsor the Ahuwhenua Young Māori Farmer Award, to promote and recognise development and growth in Māori Farming.
Other award sponsors are Te Puni Kokiri, Primary ITO, Dairy NZ, Beef + Lamb NZ, and Allflex.