Quinn Morgan, an inspiration for rangatahi
Recently, we chatted to Quinn Morgan, winner the 2021 Ahuwhenua Young Māori Farmer of the Year for dairy.
Ka pai Quinn, congratulations on receiving the award.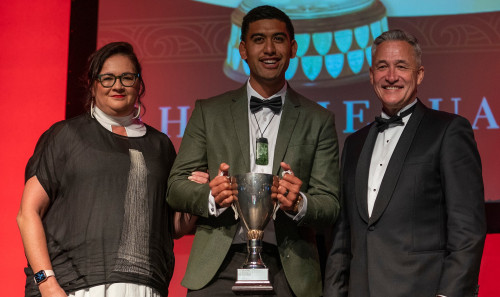 What inspired you to get into dairy farming – and what kind of support did/do you have?
"Last year during the outbreak of COVID-19, I was in New Zealand while my wife and children were stuck in Perth. I was very keen to find work in dairy farming, but it was hard getting into the industry with no experience. I applied for many jobs, but wasn't having much luck. Luckily my relations offered me some work experience, and that's when I fell in love with the dairy sector. This led me to work as a Farm Assistant. My employers, Sam and Kate Moore, are incredible – they not only taught me about dairy farming – they taught me new skills including agribusiness, hunting and off farm life skills. My wife and kids who were patiently waiting in Perth were able to finally travel to New Zealand to come live here after six months apart."
What are some of the highlights of your mahi on the farm?
"The highlight of my day is having whānau time at breakfast with my wife and children. This is a really important time of the day for me. I also really enjoy working on the whenua, outdoors and with animals".
We are keen to hear how you came to the decision to enter the Ahuwhenua Young Māori award for dairy?
"I was sitting in my ITO class when my tutor told me about the award, I also did some research at home online. I was blown away reading about the opportunities that come with entering and reading about the achievements of past finalists. Reading about previous winners really inspired me - so I called some of them, including Tangaroa Walker, 2012 winner."
"The experience and rewards that the winners had received really resonated with me – and the journey hasn't stopped for them. Hearing about their journeys made it an easy decision for me to apply".
What's next for you – what are your goals?
"Yes, I have big goals. Entering the Ahuwhenua Young Māori Farmer of the Year was my first one – tick! And my next goal is in two weeks, we will be taking sole charge of a farm, with the same employers. My wife will also be working on the farm too while she is studying a Diploma in Agribusiness".
Would you encourage other rangatahi to get into farming?
"Definitely! We are proud to be kaitiaki back here in Aotearoa, especially seeing where agriculture is going. You learn so much in this industry, developing such a wide skill set and aside from farming you learn accounting and building. It creates such a clear cut career path. No day is the same – so I enjoy the variety. On our next farm, we will be inviting young Māori farmers to come and learn on the job with us".
"Previous winners from the award have given so much back to rangatahi – and in their footsteps, I will continue paying it forward."
Te Tumu Paeroa is proud to once again be a sponsor of the Ahuwhenua Trophy. We're passionate about supporting the development of whenua Māori and the inspirational Māori leading innovation in the agribusiness sector.
Dr Charlotte Severne, the Māori Trustee presented the Ahuwhenua Young Māori Dairy Farmer Award to Quinn Morgan.
"Congratulations to our amazing finalists this year Anahera Hale, Ben Purua and Quinn Morgan. These three young Māori farmers have demonstrated ambition, initiative and industry knowledge, with clear goals for their future. They have contributed to their local community and demonstrated a commitment to Māoritanga. Leading the way, working in an ever changing environment where sustainability and innovation are key to success." - Dr Charlotte Severne, Māori Trustee.